What is a webmail?
Webmail are web-based email accounts that allows users to access their emails as long as they have access to an Internet connection and a web browser. Business Mail currently supports the widely used web browsers such as Google Chrome, Mozilla Firefox, etc.
What if I can't login to my webmail on Firefox?
If you are unable to log in using the Firefox browser, the cause of the issue could be due to the browser settings or if the cache and cookies memory may be interrupting the log in process.
Expected error can have a message similar to the one displayed below: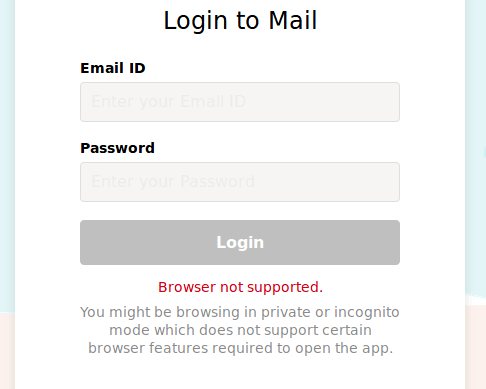 Solution:
This issue can be resolved by following these steps:
Clearing the cache and cookie memory should help resolve the issue.
Using the browser in the normal mode and not the private mode.
This is due to the current configuration settings of Business Mail where the expected behavior is to not support Firefox private mode due to technical limitations.
If following the above steps does not resolve the issue then another reason for this can be that Firefox browsing history is set to never remember history, indexedDB is disabled by Firefox which causes the login to get blocked. ( As Business Mail depends on indexedDB to work).
For resolving this, please keep history enabled and at the same time manually enter the email address, password(not let it auto-filled) hit tab, or enter on the keyboard, this should activate the login button.
If you're unable to log in, please reach out to us at support@onlydomains.com for further clarification and assistance.