Apple Mail/Mac Mail is the default email client that comes with every Mac using OS X 10.0 or later. This article will show you how to configure your Mail application to access email from Business Mail.
To protect your account, accessing 3rd party clients will be blocked when the two-factor authentication is enabled. You can refer to this article for instructions on disabling two-factor authentication on Business Mail
Follow the steps given below to successfully configure Business Mail to your Apple/Mac Mail.
1. Open Mail and "Add account" from the main menu
2. Select
Add Other Mail Account

and click

Continue
3. Enter your Login credentials and click create/continue/Sign in
Your Full Name, or as you would like it to appear on your sent email
Enter your Email Address
Enter your email account's password
Click the Sign In button
4. Enter server settings like incoming and outgoing server:
If you are based out of the European Union region then please refer to this article for Business Mail server details.
Email address : Your Business Mail address eg: jack@<domainName>
Password : Your Business Mail password
Incoming Server : imap.titan.email
Encryption: SSL/TLS (Port: 993)
Outgoing Server : smtp.titan.email
Encryption: SSL/TLS (Port: 465)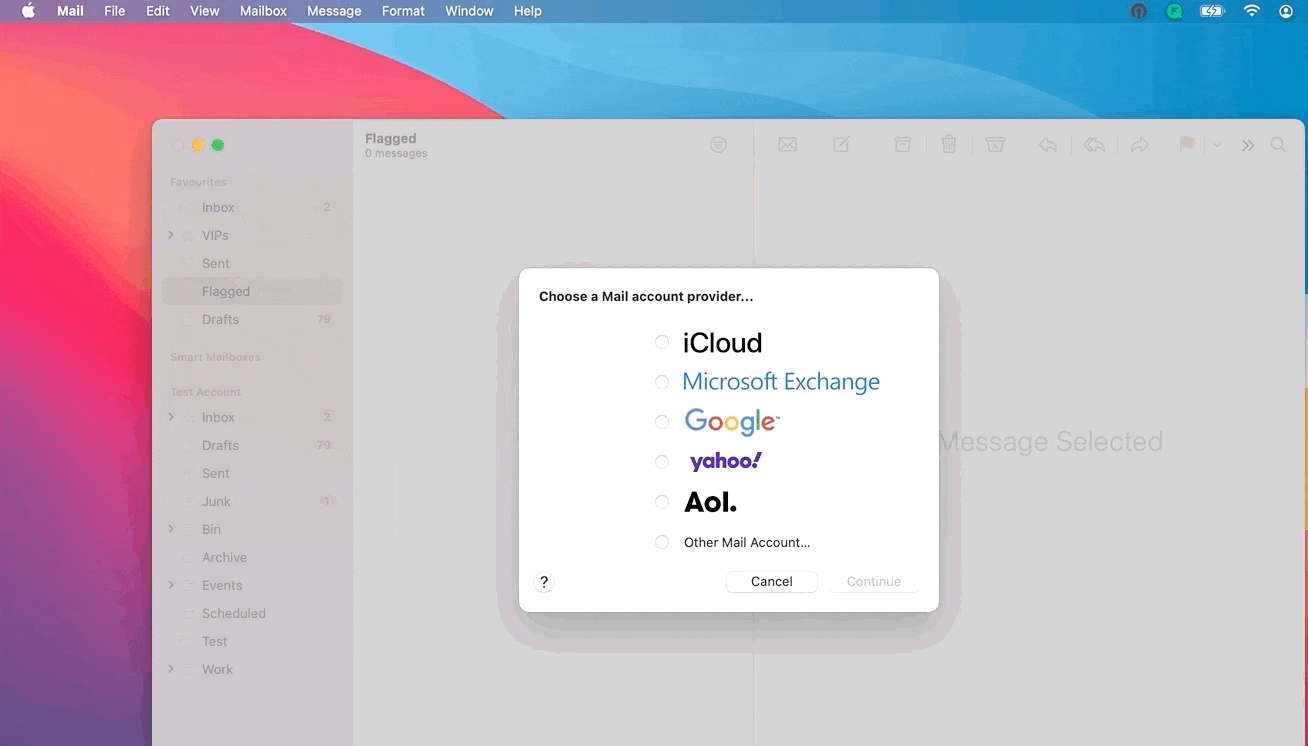 And voila you are done!


However, you might come across an issue like this where it shows your connectivity status as -
"Offline"

- How to overcome this issue?
Close Mail if it's open now
Click the Apple menu (upper left corner of your screen) > System Preferences > Internet Accounts
Select the account with the broken outgoing mail server, and then click the minus sign at the bottom
Reboot your Mac
Click the Apple menu > System Preferences > Internet Accounts
Click Google, and sign in to your Business Mail based account again
You can refer to this link as well - https://deciphertools.com/blog/2018-01-03-mail-smtp-offline/